If you celebrate the holidays by sharing and receiving gifts, you'll appreciate this list of gifts for artists — from practical to just plain fun, the gifts range in price from $20 on up. Some of the items come from our Plein Air Today sponsors, and some are random — we think you'll love them all!
A Timeless Favorite
Don't be embarrassed if you've sipped from the paint water cup — you're not alone! "Paint Water / Not Paint Water" mugs are fun, and practical. We found these mugs by Stellar Rabbit Studios on Etsy.
***
A Tool to Help With Perspective
The Artist Angle is a practical tool that helps you capture the illusion of perspective (and it doubles as a ruler and straightedge). The Artist Angle is made of rigid thick plastic and is fairly flexible, has a built-in secure metal fastener, and is 100% Made in the USA. Watch this video to see it in action:
***
Artist's Apron
A single drop of paint can ruin your clothes — protect them with this PleinAir apron for artists, which was an immediate sellout at the Plein Air Convention. Why does it have our name on it? We couldn't find the perfect painter's apron, so we had our own made. We wanted an apron that would keep us clean, wasn't flimsy, and was made of denim, but not too heavy. So we designed an apron with all that, plus adjustable strings and deep pockets. Everyone who's bought this apron gives it high praise.
***
The Palette Keeper
The Palette Keeper is made to preserve your paint with vacuum-like technology, keeping your palette just as you left it so it's ready when you are. Watch this video to see how it works:
***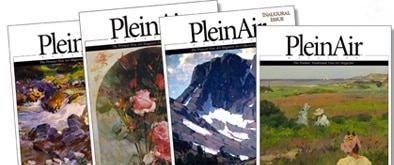 Gift Subscription
to PleinAir Magazine
It's easier than you think to give a gift subscription! Here's how it works: Gift recipients will receive a card from PleinAir magazine telling them to expect the next issue as a gift from you. Their gift subscription will include six bi-monthly issues, and we'll send each one when it's hot off the press (or as each digital edition becomes available, if you choose that option for them).
***
Gift Card to Blick Art Materials
Everyone loves a gift card to an art supply store! Blick Art Materials offers paint and drawing supplies, canvas, brushes, frames, and easels, in store and online. Browse their plein air art supplies here for pochade boxes, travel brush sets, and more.
***
Repeatable Water Drawing Board
We just thought this looked like fun! This fun water drawing board comes with three different sizes of brushes (one bamboo and two refillable) to create different lines and effects that slowly disappear. Marketed as a meditation board, we think anyone who loves to paint will appreciate the creative possibilities. According to the makers, "Each watery brushstroke will create an inky black image, much like watercolor art. You'll be delighted by the beautiful results."
***
An Experience They'll Never Forget
More and more we hear people talking about how happiness comes from having memorable experiences versus physical objects. The Publisher's Invitationals to places like the Adirondack Mountains in New York and the White Mountains of New Hampshire are truly unforgettable. If the entire trip isn't feasible as a gift, consider giving a portion toward it for the experience of a lifetime.
Plein Air Today covers artists and products we think you'll love. Linked products are independently selected and linked to for your convenience. If you buy something using a link on this page, Streamline Publishing may receive a small share of that sale.
What's on your personal holiday wish list? Share it with us in the comments below!
---
Upcoming travel and art events with Streamline Publishing:
Click here to subscribe to PleinAir Today,
the free newsletter from PleinAir Magazine.