PleinAir™ Magazine, owned and published by Streamline Publishing, was originally circulated in 2004 and later became Fine Art Connoisseur magazine because of a need at the time for broader, differently focused content. The company, however, always loved the title and intended to bring it back once it saw evidence that a stronger "plein air" market could support this specialty title. Following strong demand from the plein air community of collectors and painters asking for its return, an in-depth study was conducted in 2008 to determine if the time was right and what, if anything should change in the area of content. An overwhelming response from readers indicated that the time was right and that the rapidly growing plein air movement could now support the publication.
In February 2011, PleinAir™ was relaunched as a quarterly (4 times a year) magazine. Today the magazine is published bi-monthly in print and digital formats.
Painting from nature out-of-doors, "en plein air," and painting from life are the foundation of all painting throughout the history of art. Today tens of thousands of artists and collectors have joined a new plein air movement, which you can follow in the new PleinAir Magazine. Rooted in deep history, each quarterly issue, edited by Kelly Kane, chronicles today's master artists, their techniques, and the collectors who follow them, as well as the historic artists who came before them.
About Plein Air Painting
The French term en plein air means "in the open air," but it's come to represent the art of painting outdoors on location. Though plein air painting has been practiced for generations by such  such as Rembrandt, John Constable, Claude Lorrain, Thomas Gainsborough, and others it was popularized by the French Barbizon School (1830-1870), a movement of painters named after the village of Barbizon, near Fountainbleau Forrest, where artists like Jean-Francois Millet, Jean-Baptiste Camille Corot, Theodore Roysseau, Charles-Francois Daubigny, Jules Dupre, and others gathered to paint. The popularity of plein air painting grew increased with the invention of tubed paint and portable easels in the mid-19th century, and a group of artists who worked outdoors to capture natural light. Claude Monet, Camille Pisarro, and Pierre-Auguste Renoir were among those who promoted painting en plein air. Many French, American, Russian, Chinese, and Canadian impressionists followed the practice, which has endured and become enormously popular today.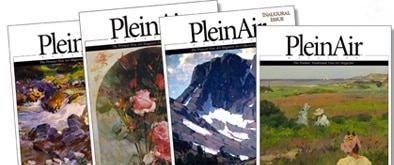 Streamline Publishing was founded in 1986. Since its inception, the company has published many magazine titles, books, and conferences.
Streamline's first art magazine, Plein Air (2004) led the company to create Fine Art Connoisseur, a magazine for serious art collectors and Artist Advocate, which is a magazine designed to assist art gallery operators with operational ideas and to expose them to new artists seeking representation.