There's a perception out there that for us professional artists, painting a landscape comes fairly easy…after all, we were born with the gift. Well that idea, at least for me, is very far from the truth. In fact, painting seems to become more difficult, maybe because taste level, knowledge, and expectations exceed ability.
The painting featured here is a case in point. Although I am very pleased with the end result, nothing about it went smoothly…nothing…from beginning to end.
The idea for this work actually began as one of many "Italian scene" painting ideas submitted to a client for a possible commission. I later selected from the submitted group the color study shown here as inspiration for a larger studio work. Before doing so however, I inverted the image. It turned out to be a good decision. The study was done using white, ultramarine blue, alizarin crimson, and cadmium yellow pale. The subject of the painting is a sunlit Italian coastal scene set in the month of May. Summer has not arrived, the foliage is still rich and lush.
Before beginning the studio painting, I experimented with other color choices. Ultramarine blue was replaced with Prussian blue and cadmium yellow pale with lemon yellow. A color wheel was created. Being able to create a wide variety of interesting greens was the starting point for palette selection.
This article is an excerpt from John Pototschnik's original blog post, "Challenge Free Painting?" Click here to read the full article.
Painting a Landscape: Worth the Challenge
Nothing about this painting was easy. The palette selection presented difficulties throughout that had to be overcome. Because of the intensity of the colors selected, almost all paint mixtures had to be neutralized. Also, the drawing was involved, complex, and time consuming. Accurate perspective and proportion were foremost in mind. There was a lot of drawing, and redrawing until everything occupied its proper space. Even the framing created a whole set of issues. A custom made gold leaf frame was ordered from an out-of-state frame builder, but when it finally arrived it was the wrong size. Challenge upon frustrating challenge…but hey, everything eventually worked out. I'm pleased with the result. Response to the work has been amazing…and that, dear friends, makes the challenge and anxious moments all worthwhile.
***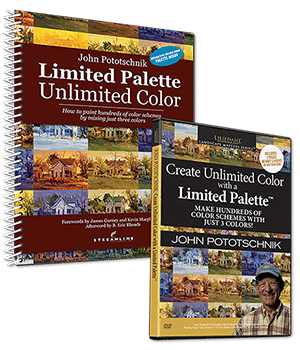 Never has there been an instructional video or book that teaches a color system that is so effective that it can completely change the way you paint. You can create any mood, harmony, or flow in your artwork by using John's color system.
The best part is that you can do all of this with just 3 colors + white. Even though you'll be working with a limited palette, you'll be painting a landscape – and more – with unlimited color. LEARN MORE ABOUT PAINTING WITH A LIMITED PALETTE WITH THIS SPECIAL OFFER.
---
Upcoming travel and art events with Streamline Publishing:
> Click here to subscribe to the free newsletter, Plein Air Today
> And click here to subscribe to PleinAir Magazine so you never miss an issue!
> NEW! GET YOUR WORK FEATURED IN PLEIN AIR TODAY