From illustrator to fine art painter since 1982, John Pototschnik shares his advice on the importance of field studies, which he says have "a value greater than any monetary reward."
Creating paintings en plein air has been an important part of my fine art career, which began in 1982. I had just left behind a 10-year freelance illustrator career in pursuit of this new dream. While strongly attracted to the landscape, many of my first paintings, I was told, looked like illustrations. It was Tony Eubanks, also a former illustrator, who suggested I start painting on location. He said that would erase the illustrator in me pretty quickly. He was correct.
Initially I created all my plein air paintings to be sold. Eventually I realized they had a value greater than any monetary reward. They were now viewed as "field studies," with the emphasis on "studies." I began working on 5.5″ x 8.5″ sheets of acid-free paper. They were crude and full of notes at first. Later they followed prescribed formats and were filed in notebooks…100 paintings per book.
6 Reasons It's Important for Landscape Painters to Do Field Studies
1) They are a perpetual record of where you've been, what you've directly observed, and what can always be referenced when needed. They also help recall the moment it was painted and all the circumstances involved.
2) Direct observation becomes more deeply ingrained and remembered.
3) They create a deeper learning experience because more time is spent observing and attempting to faithfully represent the subject.
4) Compared to working from photos, more senses are involved; not only sight, but also sound, smell, and touch. Even with improved photo technology, the eyes still are able to discern subtleties that the camera cannot.
5) They provide a direct interaction with the subject; it's like speaking to someone face-to-face versus reading something someone else wrote about them.
6) Finally, their most important value to me is that accurate value, contrast, color, and color temperature can be captured and internally retained. Without that as an important objective, I see little value in them. With no interest in such things, one's objectives as a landscape painter would be totally different than mine.
How do you make the most of your field studies? Share with us in the comments below.
***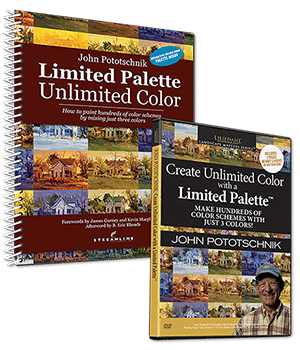 Never has there been an instructional video or book that teaches a color system that is so effective that it can completely change the way you paint. You can create any mood, harmony, or flow in your artwork by using John's color system.
The best part is that you can do all of this with just 3 colors + white. Even though you'll be working with a limited palette, you'll be painting with unlimited color. LEARN MORE ABOUT PAINTING WITH A LIMITED PALETTE WITH THIS SPECIAL OFFER.
---
> Click here to subscribe to the free newsletter, Plein Air Today
> And click here to subscribe to PleinAir Magazine so you never miss an issue!