I like the clever title of this article because it expresses a dual truth for artists working with paint and drawing media. Black and white are values, but painting with them is also of great value.
The practice of painting in black and white helps us to see and understand how important clearly defined values are to the structure of a painting or drawing; in fact, effective use of values will largely determine the success of our creations.
When speaking of value, however, we're not considering only black and white but every discernable variation in between . . . and that number can be significant. However, it's best to limit the number of gradations between these two extremes. Typically, that number is limited to nine, but many artists today are limiting their value range to just three or five distinct gradations. This small number of highly distilled and disproportionate value shapes create bold and powerful statements. Learning that value and color have an indispensable relationship to one another is also a valuable benefit gleaned from this exercise.
When I haven't taken the time to do the important preliminary work but have impatiently dived into painting without giving it much thought, the process of painting can become so bogged down that feelings of doubt and uncertainty are magnified, making the situation even worse. When that happens, I've found it helpful to take a step back and analyze what went wrong and what's needed to put the painting on a better path. Black and white studies help me do that. It's there that clarity regarding concept, composition, drawing, and values is solidified. After all, they are the core of every painting, and 98.621% of the time that's where the solution to the problem can be found. I use Ivory Black and Titanium White for these studies. Because all color is eliminated from the process, the exercise is simplified.
Andrew Loomis, in his great book Creative Illustration, says that many paintings are of poor quality because no attempt at a clear organization of values has been achieved. "It can be taken as a sound rule that the simpler the presentation of a subject, the better it will be pictorially," he says. "A simple presentation technically resolves itself into a few simple organized areas of a few values."
If we are unable to create a strong black-and-white painting, the possibility of creating a painting of any significance using color is slim to none. That's a truth I unwaveringly uphold. As Loomis states, "If the value is right, it may almost be stated that the color will not look bad. It is values and tonal relationships that spoil more color than anything else."
So, if you're dissatisfied with your paintings, and that's a good thing, look to painting in black and white to clarify the concept, composition, drawing, and values, and in turn, the color will also be better.
[Stay tuned! Pototschnik has a soon-to-be-published workshop, "Limited Palette, Unlimited Color" by Streamline Art Videos!]
To summarize the value of painting, using only black and white, here are some additional advantages:
1 – Much easier to see and develop very distinctive value patterns, since no color is involved.
2 – Helps to clarify and distinguish more easily the differences between value shapes and their relative size.
3 – Easier to establish a clear focal point and hierarchy of value shapes.
4 – Can more easily establish the dominant, unifying value of the painting.
5 – Can easily manipulate the composition by simply adjusting value shapes relative to one another.
6 – Becomes a very helpful value guide when moving into color application.
7 – Gives a clear indication if the desired mood of the painting has been achieved.
8 – Helps overcome mid-range gray paintings. Encourages the use of pure black and pure white.
9 – Only two tubes of paint to lay out; little mess, easy cleanup.
Have you already tried painting in only black and white? Tell us about it in the comments section below.
Visit my website at www.pototschnik.com,
Follow me on Facebook at https://www.facebook.com/john.pototschnik.fine.art,
And subscribe to my YouTube channel here.
***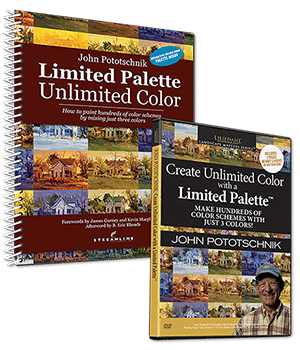 NEW! Never has there been an instructional video or book that teaches a color system that is so effective that it can completely change the way you paint. You can create any mood, harmony, or flow in your artwork by using John's color system.
The best part is that you can do all of this with just 3 colors + white. Even though you'll be working with a limited palette, you'll be painting with unlimited color. LEARN MORE ABOUT PAINTING WITH A LIMITED PALETTE WITH THIS SPECIAL OFFER.
---
Like this? Click here to subscribe to PleinAir Today,
a free newsletter from the publishers of PleinAir Magazine.