Painting workshops have become the go-to method of instruction for those wanting to express their artistic side and gain access to the world of fine art. For those who studied art in school, but for whatever reason were unable to pursue it, a two- to five-day workshop offers an affordable and timely opportunity to reignite what has largely lain dormant for so many years.
Extensive study at an atelier is out of the question for many, and some find that colleges, for the most part, offer nothing of substance. Generally, workshop instructors are professional artists, so they have real-world experience to offer their students . . . not just theory.
Anyone who has taught workshops quickly realizes that most participants are women who have invested many years of their life being a wife and mother, and now have the time, desire, and resources to express themselves in a different way. For some, stepping into a workshop for the first time can be both intimidating and fearful.
This article will hopefully alleviate both of those concerns. Roger Dale Brown, Barbara Jaenicke, Jeff Legg, Lori Putnam, Matt Smith, and Dawn Whitelaw, all highly respected workshop instructors who have pretty much seen it all, offer some counsel to those already actively participating in workshops, but particularly to those wanting to step into this wonderful world of art instruction.
I have taught oil painting workshops for at least 30 years, and it has been a great experience. The pleasure of instructing so many wonderful, energetic, and enthusiastic people is good for a teacher's soul, but it is hard work. To be a good instructor requires more than just being a good artist, it's really a calling . . . a genuine willingness to share with others what we've been given…and to cheer the student on when they "get it." You should be aware that there are some who would merely give a workshop in order to pick up a few quick bucks, and this could result in a less than satisfactory experience for you . . . that's not good. So, I suggest the following to those wanting to take a painting workshop:
1. Pick your instructors carefully. Ask others who have studied with the instructor of choice to share their workshop experience.
2. Stop workshop hopping. Select one or two artist-instructors who do the type of work you would like to do and learn all you can from them.
3. Lay aside any ego. Joe Paquet tells his workshop students to come with a humble attitude. You'll read that same sentiment from each of our instructors. I remember many years ago when I was teaching a weekly class, a new student arrived with all the Bob Ross gear; whenever I would teach something that contradicted Ross's teaching, she would say, "That's not what Bob Ross taught me." It took some time before she came around, but eventually she "got it." For a teacher, that's a beautiful thing.
I asked each of our workshop instructors two questions:
What do you expect of your workshop students? and What should be their attitude when taking a workshop?
Keep reading to hear their responses . . .
Roger Dale Brown: I hope my students come to a workshop with an open mind and clean slate, so they can take in information without anything impeding that process. I fully expect and welcome questions for clarification, and I encourage open communication.
Students may not understand or adhere to some theory or idea, but being open to hearing different ideas is an important element to broaden their journey. If someone comes to a workshop with the intent of proving me wrong or trying to impress others, then they are doing themselves and everyone else a disservice.
I have a short period of time in a workshop to communicate what has made me successful. I am passionate about teaching, so it is important to me that my students have open minds and try to understand my approach to painting. Be ready to learn, to focus, and to try new things.
Barbara Jaenicke: My primary expectation is for my students to put their own painting methods aside for the duration of the workshop in order to fully immerse themselves in what I'm teaching. In order to gain a worthwhile experience in any workshop, students need to try the instructor's methods exactly as they're taught, otherwise the workshop fees that students pay just become exorbitant studio rental fees.
Students should come prepared with the prescribed materials. For certain painting techniques, the proper materials will make all the difference, and the techniques being taught might not be possible to achieve with different materials. This can cause frustration for the student, as well as the instructor, when attempting to work with each student.
Students who attend my workshops with an attitude of total immersion, being more concerned with learning than producing "show" pieces, tend to increase their skill level much more dramatically than those who don't.
Jeff Legg: As a student, the number one requirement is to be teachable. There is no room for ego or doing things the way you've always done them. Growth requires a willingness to get outside your comfort zone. One of the biggest hurdles in teaching is convincing students there are no easy 1-2-3 steps to success.
Learning to paint is not a formula; it is based on principles and observation. It requires discipline and commitment. Most of all, you must want it. Leave your assumptions at the door. Be open to seeing in a different way.
Lori Putnam: Maybe it is ego, maybe it is fear, but for whatever reason some students are reluctant to accept new ideas. All I really want my workshop participants to do is TRY. Try what I am asking you to do. Then try it repeatedly. It seems that everyone expects to "get it" in the first shot; that is not a realistic expectation. If students will commit to practicing my advice repeatedly, I guarantee they will ultimately be better painters.
One of the things on my supply list is "sense of humor." Workshops should not feel intimidating or filled with anxiety. Workshops should, however, be incredibly hard work. My workshops are packed with more knowledge than participants can possibly process because I know that they will continue to hear my voice and learn from the workshop for years to come. All this hard work, however, comes with a huge dose of conviviality. There are two great compliments I get from former students. One, they learned more in my workshop than in any they have taken before. Two, I made them feel comfortable while doing it.
Matt Smith: The only thing I expect from my workshop students is a desire to learn, no matter what their level of experience may be. My belief is that students should enter a workshop with an open mind and willingness to employ the concepts the instructor is throwing their way.
Dawn Whitelaw: I would like students attending my classes to focus on learning, experimenting, and inspiration. Put aside the expectation of producing a masterpiece in class. Students need to know that what interests me most in teaching is to help each person develop their own unique vision as a painter. I am not interested in pushing a student to paint like me.
Students do not need to perform well in order to learn. They should not feel they're in competition with other class members. Learning to paint is difficult. I cannot offer any magical formulas or shortcuts; I can only offer ways to improve. Students must be willing to invest the time necessary for continued development following the workshop.
***
What's your biggest goal when attending an art workshop? Share it with us in the comments below!
For art workshop information and to view the artists' websites:
***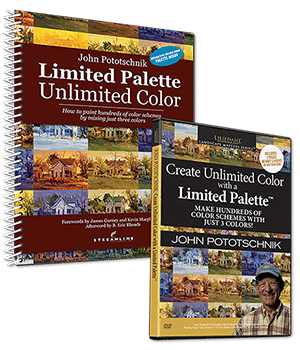 NEW! Never has there been an instructional video or book that teaches a color system that is so effective that it can completely change the way you paint. You can create any mood, harmony, or flow in your artwork by using John's color system.
The best part is that you can do all of this with just 3 colors + white. Even though you'll be working with a limited palette, you'll be painting with unlimited color. LEARN MORE ABOUT PAINTING WITH A LIMITED PALETTE WITH THIS SPECIAL OFFER.
---
Like this? Click here to subscribe to Plein Air Today,
a free newsletter from the publishers of Plein Air Magazine.