On Landscape Painting > Although he is relatively new to plein air events, Devin Michael Roberts has achieved remarkable success by taking full advantage of educational tools, interactions with other artists, and online opportunities for promotion and sales.
"I am conscious of being in the early stages of my art career," say this artist who divides his time between Missouri and Washington. This "early stage" didn't begin until Roberts was 27 years old, when he took time away from his career as a professional pianist to study drawing and painting.
Among the obvious influences on Roberts are painters of the late 19th century, most especially George Inness, Thomas Moran, Albert Bierstadt, Isaac Levitan, and James Abbott McNeill Whistler.
Roberts has been especially interested in artists who use veils of color and the layering of their physical paint surface in order to symbolize the hidden spiritual aspects of the natural world.
Those veils suggest subjects emerging from the painter's heart and mind as much as from direct observations of the landscape. In particular, comments by Inness resonate with Roberts. One statement explains that Inness thought "painters should not glorify nature but, rather, express its hidden spirit and underlying character." Inness further stated that the purpose of art was "not to instruct, not to edify, but to awaken an emotion."
In his effort to "awaken an emotion," Roberts does exercises to improve his memory of what he sees and feels, and he strives to paint quickly enough to "capture something unique about a moment in time, to capture the emotions of life, and to call on my memory later on in the studio."
He adds, "That's why most of my plein air paintings are not finished works of art (except those created during organized events) but, rather, are intimate studies of clouds, foreground elements, water, skies, and other elements of nature. I use them to trigger my memory of an experience rather than to give me a precise record of a location."
Roberts arrived at this approach to landscape painting by watching DVDs by Richard Schmid and C.W. Mundy, studying in classes and workshops offered at Gage Academy of Art in Seattle, participating in workshops in the Pacific Northwest with artists such as Jim Lamb and friend Robin Paul Weiss, reading magazines and books, and looking at a lot of original paintings in museums. "In particular, I was strongly influenced by the Hudson River School paintings included in an exhibition titled 'Beauty & Bounty' at the Seattle Art Museum," Roberts recalls. "Those paintings helped me focus my plein air and studio work on a Tonalist approach to painting similar to George Inness.
"When I first started painting, I made careful studies, enlarged those onto canvas using grids, and then faithfully painted the subject as best I could. But Robin Paul Weiss got me to look at the value masses and paint those. Eventually, I learned to emphasize the selection process of putting together shapes, values, and colors in a painting. I now begin with washes of the big value pattern, then I apply opaque colors using one of two brushes. I paint fast, then lay in thick paint with a palette knife toward the end of the process."
Roberts reveals that his plein air landscape painting supplies and equipment include an Easy-L pochade box full box (12 x 16 inches) that has a glass palette inside, and a selection of oil colors that includes titanium white, Winsor & Newton bright red, alizarin crimson permanent, golden ochre, cadmium lemon yellow, cadmium yellow medium, ultramarine blue, cobalt teal (Gamblin), Prussian blue, and transparent red oxide.
"I don't necessarily use more than three or four colors on one painting," he says, "but I keep my options open by taking all the colors outdoors when I venture out into the landscape." Roberts says he works on lead-primed linen and lead-primed cotton duck canvas he adheres to MDF panels. He textures the surfaces of the panels by manipulating the lead primer with a palette knife to create random patterns.
"The most important consideration in selecting a subject for a painting is that I must respond to it emotionally," says Roberts. "It has to strike me as beautiful from the very beginning. I always begin by painting directly from life, both in the studio and outdoors. In the studio I use my plein air sketches as direct evidence of what I observed in nature. My studio paintings combine multiple references, including memory and imagination. The goal is to elicit an emotional experience within the viewer.
"I employ many different techniques I have picked up from books, online publications, other painters, etc. I may utilize any of those materials and procedures at any given point, and I sometimes choose to blend techniques together. I may begin with a block-in of the big shapes using transparent color washes, or I may begin with an even more direct technique. Once I get to the finishing stage, my technique becomes more concerned with color, texture, and edges. I use a mixture of brushwork and texture manipulation using traditional tools such as brushes and palette knives, as well as fingers, credit cards, paper towels, and whatever I may have on hand."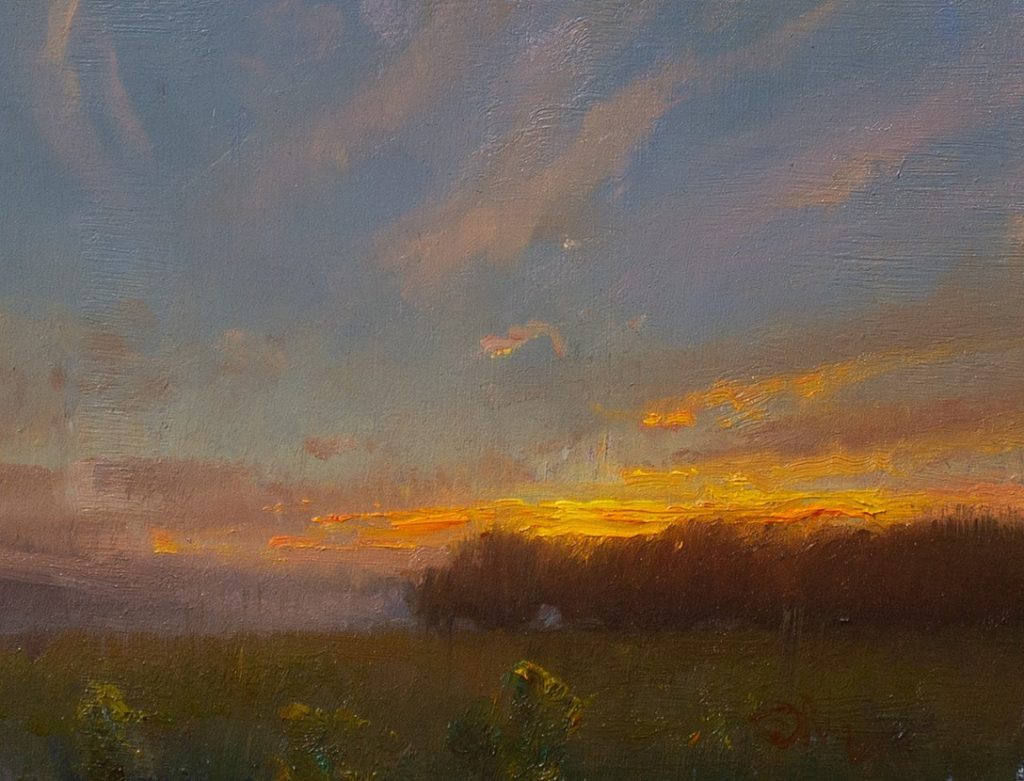 Because he recognizes that he is still growing and changing as an artist, Roberts is patient in dealing with the vicissitudes of the plein air field. "If I am fortunate enough to be invited or juried into an event," he says, "my goal is to learn from the experience and the other participating artists and not necessarily to win awards or sell paintings. It can be expensive to take a week off, travel, buy painting supplies and frames, and buy food, so sales and award prizes do help, but I don't stress out and I try to enjoy my time with other professional artists.
"Based on my conversations with other artists, I think I am doing better than most in building a career and in using social media and a website. I have been supporting myself by playing in piano bars, and I understand how hard one has to work to make a living from one's talents. For decades, I have been promoting myself in order to get more and better bookings. Selling plein air events is not so different in terms of what artists must do to be successful."
---
Check out the following amazing opportunities for learning landscape painting techniques and more with Streamline Publishing:
> Click here to subscribe to the free newsletter, Plein Air Today
> And click here to subscribe to PleinAir Magazine so you never miss an issue!