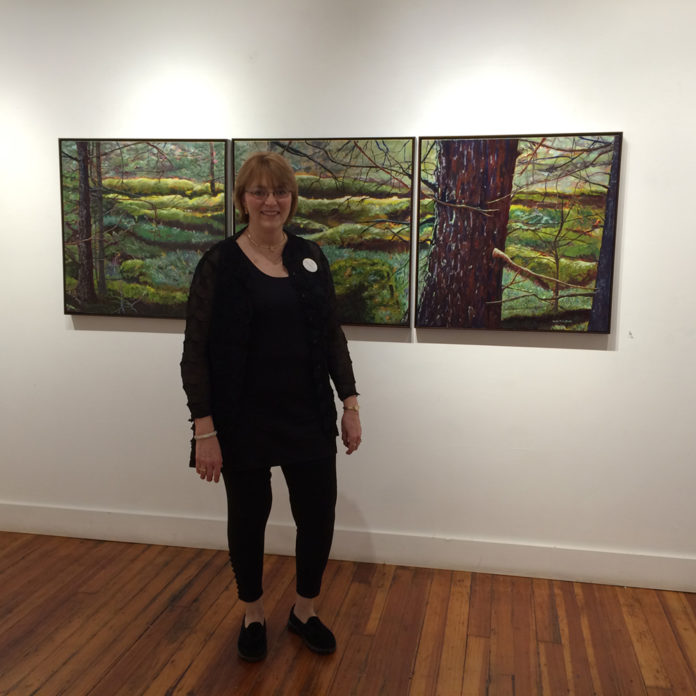 How did you get started and then develop your career?
Sandi Pillsbury: My career as an artist started at an early age when my parents gave me a "paint by number" set at the age of 10. I was amazed how blocks of color formed together made an image, and I also loved how the oil paint went onto the surface of the board — I was hooked! I took as many art classes as I could both in high school and into my college years.
I soon learned that I may not be able to make a living as an artist, so I went into art education. My summers were filled with doing my own artwork; but I didn't really find my "voice" as an artist until 1987 when I took an art class at the Grand Marais Art Colony under the mentorship of Hazel Belvo. I studied with her for the next 33 years and developed my own unique style of painting.
How do you find inspiration?
The inspiration for my work has always been nature. I live on the north shore of Lake Superior which provides me with many vistas and subject matter. I rediscovered plein air painting after doing studio painting for several years. I have always been a keen observer, so coming back to plein air seemed very natural to me. I will often do smaller plein air studies and then bring them into the studio to work from for larger paintings. One trick I learned from Hazel is if I do an underpainting of acrylic paint using the opposite color from the oil color that will go over the underpainting, this gives the image a lot more depth and movement. I have found this method to be very successful, and my paintings have much more life to them.
How do you describe success?
I have discovered in order to be a "success" as an artist, it takes a lot of discipline and hard work; yet, at the same time, it is most enjoyable to paint the things I love. That love and inspiration must come through in my work in order for the painting to be a success. In turn, this success eventually turns into selling my work! For me it is not about the money, but rather to be able to share my joy of painting with the public. I am always thrilled when someone wants to purchase one of my paintings. There is a bit of my soul in every one of my works that I create!
What is the best thing about being an artist?
I believe the best thing about being an artist is the pure joy of discovering new places to paint and creating new experiences for me and my audience. I have had the opportunity to travel to some beautiful places in Europe and throughout the United States. I find beauty is really everywhere — one just has to be open to it! I also love to teach other people how to paint!
It gives me great pleasure to share my knowledge with beginning artists. I love to see how excited they get when they discover how they too can learn to paint and find their own voice as an artist!
Who do you collect?
My art mentors include Hazel Belvo, the late George Morrison, Elizabeth Erickson, and Mary Pettis. I have collected some of their work along with other plein air painters, some of whom I have had the privilege to paint alongside. I also find inspiration from Georgia O'Keeffe and Claude Monet. One of the items on my "bucket list" was to paint in Monet's gardens at Giverny! I have wanted to be in his gardens ever since I was a small child, and so I did!
To see more of Sandi's work, visit: www.sandipillsbury.com