It is a fact that one's creative juices can ebb and flow. It's not pleasant when they ebb, particularly when you make your living being creative. I've experienced a few slumps in my day, and another while I write this. I know people are surprised to learn such a thing is even possible with someone they consider to be an accomplished painter. But it's true and is certainly not uncommon among creative professionals. That is itself an important point. It's not uncommon, so it's a truth that first needs to be recognized, and then accepted.
Inherent in every creative slump is self-doubt, a feeling that you're losing your creative ability. Of course, that's not true, but it certainly feels that way. It just reiterates what I've said many times: if we rely on our feelings to be aligned before doing anything, we will accomplish very little.
During a particularly bad episode a few years ago, I remember entering the studio and realizing I couldn't even remember how to start a painting. I felt I had forgotten everything. I mean it. Every attempt at painting just added to a growing sense of hopelessness and frustration.
One question asked of many artists that I've interviewed for my weekly blog is: "When you become discouraged and feel the well is dry, so to speak, what do you do?"
Here are some responses.
Dianne Massey Dunbar: I keep showing up at the easel. Keep on suiting up, showing up, and painting.
C. W. Mundy: The first and most important question you need to ask yourself is, "Why is the well dry?" The second question is, "Would it be more productive to work through this or take a break and get a fresh start?"
Denise Mahlke: The best thing for me is to do something different for a while, even if it's not art-making; a long walk, gardening, going to a museum, etc. Or I will switch from pastel to oil or draw instead of paint, read and study instead of drawing. Copying the Masters from a book or online image is also helpful. All these things can spark creativity and new ideas.
John McCartin: I have a short break (couple of days). Plein air painting or charcoal drawing on the side of the road revitalizes me. Changing from landscape to still life or even changing mediums is a great help while browsing the work of great artists, past and present, can be very stimulating.
David Gray: Keep painting. Contemplate. Journal. Hang out with artist friends. Go to a museum if I have the opportunity. Perhaps experiment with a different medium. Above all, keep painting. One has to be in motion in order to get anywhere. Eventually I will come out of my dry spell.
Douglas Fryer summed his approach up in one word: Work.
Every artist needs to find what works best for them. When experiencing such slumps, others have suggested:
• Don't sit and sulk
• Focus on related activities
• Tidy up the studio
• Get out and exercise
• Create in an unfamiliar place
• Learn something new
• Start small, build small successes
• Don't compare your work with others
• Look for inspiration through the work of artists you most admire
• Don't hang around doubters or negative people
• Start sketching. One idea will lead to another
• Set a creative challenge
• Don't procrastinate. Get to work.
My usual procedure for overcoming these discouraging slumps is to start something new, create many small studies (4″ x 6″ range) of possible future paintings, or get outside and paint on location. Many artists, when going through such times, have expressed that they have always come out on the other side doing better work. Let's hope that's the case for all of us.
How do you work through creative slumps? Share your thoughts in the comments section below.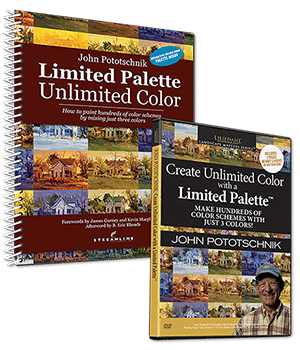 NEW! Never has there been an instructional video or book that teaches a color system that is so effective that it can completely change the way you paint. You can create any mood, harmony, or flow in your artwork by using John's color system.
The best part is that you can do all of this with just 3 colors + white. Even though you'll be working with a limited palette, you'll be painting with unlimited color.
LEARN MORE ABOUT PAINTING WITH A LIMITED PALETTE WITH THIS SPECIAL OFFER.
---
Upcoming travel and art events with Streamline Publishing:
Like this? Click here to subscribe to PleinAir Today,
from the publishers of PleinAir Magazine.