In this PleinAir Art Podcast with Eric Rhoads, hear what Pototschnik has to say about becoming an artist (including how important marketing has been in his path), his limited palette and color choices, and more!
John Pototschnik (Poe-toe-sh-nick) is an Art Renewal Center Associate Living Master, a Signature member of the Oil Painters of America and a Master Signature member of the Outdoor Painters Society. Listen to this exclusive interview between Pototschnik and Publisher Eric Rhoads in the latest PleinAir Art Podcast.
Pototschnik was born in St. Ives, Cornwall, England but grew up in Wichita, Kansas. He received his art training at Wichita State University in advertising design, followed by instruction in illustration and design at Art Center College in Los Angeles. Most recently he has studied human anatomy at the Lyme Academy of Fine Arts in Old Lyme, Connecticut.
Listen to this PleinAir Art Podcast with Eric Rhoads and John Pototschnik:
***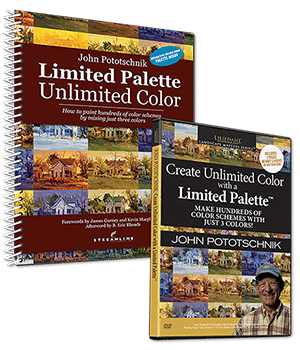 NEW! Never has there been an instructional video or book that teaches a color system that is so effective that it can completely change the way you paint. You can create any mood, harmony, or flow in your artwork by using John's color system.
The best part is that you can do all of this with just 3 colors + white. Even though you'll be working with a limited palette, you'll be painting with unlimited color. LEARN MORE ABOUT PAINTING WITH A LIMITED PALETTE WITH THIS SPECIAL OFFER.
---
Click here to subscribe to PleinAir Today,
a free newsletter from the publishers of PleinAir Magazine.