You don't actually have to learn drawing techniques if you're painting landscapes, right? John Pototschnik shares his insights.
Painting Landscapes: Why Draw?
Some years ago, when I was asked to teach a weekly art class, I gladly accepted. I expected a class full of eager, enthusiastic students, ready to tackle the challenges of becoming fine artists. The class was full (17 students), but when they were given a simple drawing exercise, I quickly realized none of them had the slightest understanding of perspective.
Desiring to actually teach them something and not just collect their money, I told them to put away their paints, we were going to concentrate on learning how to draw the cone, sphere, cube, and cylinder in perspective. The next week, one student showed up . . . and that was the end of that.
Having taught many workshops over the years, I've seen that students are extremely excited about color and paint. They just want to get that paint on the canvas. It is easy for them to acknowledge that their drawing skills are weak, but it's a whole other thing entirely to see them diligently buckle down and do the hard and sometimes tedious work necessary to improve that skill.
Fortunately, the emptiness of the "modern art" movement has awakened many to the importance of drawing. After all the hype negating its importance, artists are in fact realizing that drawing is at the very heart of our ability to communicate as artists. I call it the foundation of all painting. Just as a house built on a lousy foundation will not stand, neither will our paintings hold up if the drawing foundation is unstable.
Painting Landscapes: Start with a Sketch
As positive as the current craze for painting landscapes en plein air can be, I still say that without the foundational knowledge and ability to draw — to accurately represent on a two-dimensional surface the perspective, proportion, and values of the subject before us — well, there is no hope of adding anything of note to the fine arts. [Continue reading…]
***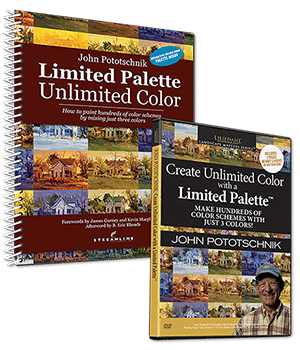 Never has there been an instructional video or book that teaches a color system that is so effective that it can completely change the way you paint. You can create any mood, harmony, or flow in your artwork by using John's color system.
The best part is that you can do all of this with just 3 colors + white. Even though you'll be working with a limited palette, you'll be painting with unlimited color. LEARN MORE ABOUT PAINTING WITH A LIMITED PALETTE WITH THIS SPECIAL OFFER.
---
Upcoming travel and art events with Streamline Publishing:
> Click here to subscribe to the free newsletter, Plein Air Today
> And click here to subscribe to PleinAir Magazine so you never miss an issue!