As we enter the winter season, I imagine plein air painting will cease for some. Oh, there will be hearty souls who will bundle up and trudge through the snow with their equipment, but I'm sure some are like me . . . basically fair-weather painters.
I do paint winter scenes from life, but they're usually done looking through a window while sitting in the warmth of my studio or from the front seat of a car. My hands, injured many years ago from prolonged cold, cannot tolerate even cool temperatures, so the ideal winter plein air experience for me would be a brilliant sunny day, a foot or so of unmelting snow, and a temperature of 72 degrees. I don't imagine that's going to happen anytime soon unless God again displays that nothing is impossible in Him. In the meantime, through a window it will be.
Fortunately, there are some serious painters who thrive on experiencing fully all that winter has to offer. Aldro Hibbard (1886–1972) was one of those. Contemporary painters Stapleton Kearns and Joe Paquet are a couple of others.
So, if you're one of those purists who must stand in the snow to paint, these artists offer helpful advice.
Joe Paquet layers up to the point of overheating before going out. He too experienced early damage to his hands, so they get cold faster than normal. Despite this, he still wears only a pair of thin gloves, because he needs delicate control of the brush, and he also carries some heat packs with him.
Stapleton Kearns says, "If you want to paint snow, go outside and do it. Photography won't tell you enough about the structure of the snow to make a painting. It is hard to get the feeling of winter without feeling the winter. If the idea of working out in the cold doesn't appeal to you, maybe another subject might be more suitable. To paint snow well, you must love winter. People who paint boats well, love boating."
Aldro Hibbard often visited the site beforehand and composed the picture mentally and memorized the impression it made on him. He'd set up the easel and during the first day make a layout on a large canvas. This was painted very thinly with plenty of turpentine, almost a watercolor technique, with colors that approximated the probable final scheme. If the desired effect was a fleeting one, he had several small canvases ready for very rapid sketches when the sun reached its appointed place. He would make several such sketches at different times before being ready to finish the large canvas. Sometimes the large canvas was completed in the studio, but his general practice was to complete them on the spot.
Often, he would paint on a picture outdoors all day, spending the morning and midday on layout or underlay and waiting for the late afternoon to make the final color adjustments. Spending too long on one painting under rapidly changing light, he considered dangerous. When the effect is transitory, he preferred recording impressions in small sketches and relying upon them for the final painting.
To overcome glare reflecting from the snow upon the canvas, he placed a piece of black cloth under his easel and feet. He liked to say the picture has to be painted on the palette. Unless the artist can judge the right color before it goes onto the canvas, he is lost.
Kearns and Paquet each "prepare" their white paint for winter painting. Joe mixes cold-pressed linseed oil into his lead white before going out. Stapleton squeezes out a doughnut of white onto his palette and adds medium into the hole in the middle, whipping that together with a palette knife.
Paquet uses New Traditions half-inch panels mounted with Clausens Linen (Type 15 for large works) and tones the surface prior to painting. He prefers this surface because it never goes slack, they're lightweight and very rigid, and the sun doesn't shine through them. The downside . . . they can become sails in strong winds.
Kearns offers further advice: "We've all heard that snow is not white. So, what's that leave? Red, yellow, and blue. Adding white to these three will enable you to achieve the high values you'll need to make snow. Snow is opalescent. I'll lay in a field of snow using a very high-key mixture of cobalt violet (red and blue) and then drive a high-key mixture of cadmium yellow and white into it (there's the yellow). Forms are modeled by controlling how much yellow is added. Where the sun hits the forms, I'll use more; as they turn away from the light, I use less. Violet can be added to describe forms as they turn away from the light. Don't paint your snow in too high a key. Just as a photograph will lose its detail or modeling if it is over exposed, using too much white in snow will prevent you from modeling it. I suggest you drop the value down a bit from the way it appears on location.
"The shadows on snow are the opposite of the color of the light, but that's a generalization. Be careful to observe what is actually taking place before you and use that while looking for the complement of the light. I like to paint my reflected lights warm. Cadmium orange works for that. If your lights are warm, generally your shadows will be cool.
"It is almost always best to err toward warmth in a snowscape . . . maybe in any picture. Cold pictures are less welcoming. Just because it is a snow picture doesn't mean you have to paint it ice cold. If we like a person, we might say they are warm and friendly. If we say they are cold, that is just the opposite. Likewise, we are attracted to warm paintings. Warm golden lights and blue shadows make for a lovely painting."
In closing, Joe Paquet says he is careful never to rush in order to finish a painting in the field. "Patience is a real virtue. I endeavor to work the whole canvas together in order to find the specific harmony in front of me."
I can see what he means. Because of the cold, the normal thing would be to rush the work in order to get out of the cold as soon as possible. Not a good idea, Paquet says.
In speaking with Stapleton, I was surprised that he does not call himself a plein air painter. He begins every painting on location, but like his important influence, Aldro Hibbard, he is not opposed to finishing each painting in the studio if need be. Joe Paquet also is not opposed to adding a touch or two in the studio if, as he likes to say, the painting starts "speaking" to him, telling him what needs to be done.
What advice do you have for painting snow? Share it with us in the comments section below!
***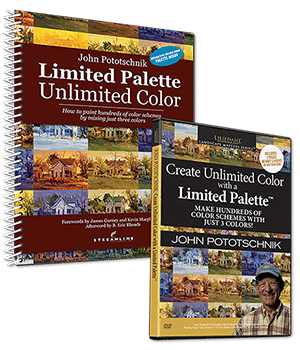 NEW! Never has there been an instructional video or book that teaches a color system that is so effective that it can completely change the way you paint. You can create any mood, harmony, or flow in your artwork by using John's color system.
The best part is that you can do all of this with just 3 colors + white. Even though you'll be working with a limited palette, you'll be painting with unlimited color. LEARN MORE ABOUT PAINTING WITH A LIMITED PALETTE WITH THIS SPECIAL OFFER.
---
Like this? Click here to subscribe to PleinAir Today,
a free newsletter from the publishers of PleinAir Magazine.