In addition to technique, your intention and ability to improvise play a key role in painting waterfalls and waves, and in creativity.
By Bob Masla
maslafineart.com

Painting water and water in motion is always a challenge. Like clouds, sunsets, and many natural phenomena, they are constantly moving. The exception is a totally still body of water, like a mountain lake without wind. In that situation, you are dealing primarily with reflection, transparency, and translucence – plenty to deal with. The shape of water, like air or vapor, etc. is given shape by its container – or lack thereof – and by the energy that moves it.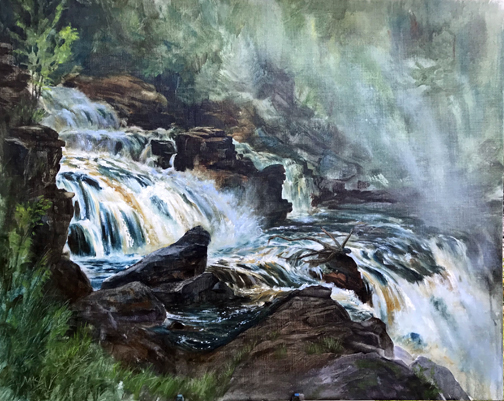 When I teach workshops I always emphasize how intention is the most important factor in the artistic process. It creates what I like to call "the energy field" of the piece and it is the foundation on which all other elements rest. From the choice of tools, medium and ground, to composition, values, tonal key, paint application, details, etc., a piece "works" when the various elements are in alignment with, (or at least don't detract from) the intention.
We have all seen works that may have great, admirable, and technical prowess but perhaps lack a certain something that propels them from the ordinary to the extraordinary – I am certainly responsible for creating my fair share of these. In fact, all artists do. It is part of the process of being an artist, and of course, is related to intention.
It is a real paradox of the artistic journey that we have to learn and master our craft in order to transcend it. To create extraordinary works that have the power to move most people is actually quite rare. This statement is not said with the design to establish a hierarchy of work but rather to emphasize the importance of intention within the creative process and the role of improvisation.
It doesn't matter whether your intention is "I want to just play with color, push it around and see what happens" or, "I want to capture the feeling for this landscape using a composition based on the golden section in a high key that is uplifting and moves people to feel joyous." It's your intention and there are no mistakes, only opportunities that show you where you are in relation to your intention. These opportunities for change and growth all contain something revealing – perhaps unique and beautiful in their own way – the wabi-sabi nature of things, the perfection of imperfection.
These so-called "mistakes" can be our greatest teachers. This is the basis of real critique, not to be mistaken or exchanged for criticism. By understanding our intention, we can understand where we are and where we are going and thus determine what we need to do. From my perspective Art is not a noun, it is a verb – a way of Being, a way of life.
Each week during the winter when running workshops at Casa de los Artistas, my retreat center in Mexico, we take a boat trip to explore the gorgeous Pacific coastline and stop for a picnic lunch on the beach. It is a wonderful opportunity to study the sea, rock formations, and the effects of atmospheric perspective. During the picnic, I will often do a short demo on the "anatomy of water and waves," pointing out some key underlying features to look for.
When painting water, we need to decide what particular aspect of energy we want to convey; stillness, movement, rocking, soft or forceful, falling or crashing. What is the intention? Do we wish to "freeze" a moment in time or show a sense of continual movement?
Every element and object has a unique energy field. When drawing or painting any representational thing, particularly en plein air, close observation and the execution of good craftsmanship is 90 percent of the process. Craftsmanship is developed through time spent learning the properties of a given medium and practicing the process of drawing and painting; line, shape, composition, values, color, edges, detail, etc. The other 90 percent of the process of manifesting your intention is giving yourself permission to infuse the work with passion and improvisation.
Your passion is connected to your personal vision of yourself and the world. It is linked to your improvised intuitive response of imagination, emotion, and memory. This ability of an artist to apply and combine all that they have learned and practiced about the medium and processes, coupled with a spontaneous, improvised response to the current moment that is filled with a passion-fired imagination, is where creativity lives.
In trying to master our craft, sometimes over time we can find ourselves becoming its servant. Mastering a craft does require patience, practice, and persistence, but too often we can fall into simply using what is tried and true, predictable and safe. The longer we do this, the more challenging it is to infuse permission, passion, and improvisation into our work. I think this is a common dilemma.
One of the hallmarks of creativity is improvisation. There are many exercises, situations, and tools that can help facilitate this process and I try to introduce these in my workshops when appropriate. One way I always tell painters to catapult this process (of course) is by painting en plein air. Its very nature is one that can easily facilitate improvisation as there are so many unknown and uncontrollable factors and variables that must be dealt with in the moment. Another method is switching materials or techniques to ones that are unfamiliar and forcing experimentation, or changing your typical work environment is also helpful. Painting moving water is unpredictable in itself, thus giving us the opportunity to improvise.
What is your intention? For me, the overarching intention of Art is the process of being present and aware and responding to the moment with imagination, creativity, and compassion. Share your thoughts in the comments below.
---
Visit EricRhoads.com to find out all the amazing opportunities for artists through Streamline Publishing, including:
– Online art conferences such as Plein Air Live
– New video workshops for artists
– Incredible art retreats
– Educational and fun art conventions, and much more.

> Subscribe to Plein Air Today, a free newsletter for artists
> Subscribe to PleinAir Magazine so you never miss an issue