How to title a painting > In this guest blog post, plein air painter John Pototschnik explains his process when it comes to giving a landscape painting the perfect title.
Motivation, Process, and Titles
I am sometimes asked how I come up with painting titles, and my answer is that usually it's not easy. I believe a painting's title is important; in some ways it's like naming your child, and you know how much thought you give that. In my opinion, poor titles identify the obvious, for example, "Blue Vase with Green Apples" or "Landscape with Mountains," or the worst, "Motif." Good titles should point to the not so obvious…something that gives a clue to the artist's motivation, something that will cause the viewer to look deeper than just the surface.
For me, a title never precedes the painting. Most of the time I choose the title after I've signed the painting. I'll sit and contemplate the work for some time, absorbing its intent and how it makes me feel. I then try to express that in the fewest amount of words. Selecting an appropriate painting title can be a challenge sometimes, but the result is often worth it.
On Painting the Landscape Titled "Grandpa, Why…?"
The painting, "Grandpa, Why…?" reminds us of those times when every question began with, "Why…?" and hopefully you always had a wise and gentle reply.
The narrative for this painting actually developed during the process of painting. I think it expands the work and enables the viewer to relate to the piece on a deeper level. Below is the process followed in order to bring the painting to completion.
This is the plein air study (below) used as reference for the larger studio piece. Field studies are typically done on 100% rag paper and sealed with a ground of acrylic gesso. Paper size is 5.5″x 8.5″ and the painting area is masked off according to the proportion needed. Each painting includes the following info: upper left tells me where I can locate the photographic reference. Info below the painting gives location, sometimes the direction I was facing, time, date, and abbreviations detailing the palette used. Each of the studies are placed in archival sleeves and filed in three-ring binders…100 per book. I am currently close to completing the eleventh book.
Step 1: The canvas was toned with a mixture of ultramarine blue and burnt sienna. The lightest areas were rubbed out with a paper towel. Accurate drawing began using a soft brush and various mixtures of the above two colors.
Step 2: Drawing and redrawing continues. Notice my messy corrections on the right. At this point I decided to add to the story line through the addition of people.
Step 3: Local color is applied in thin layers.
Step 4: The values and local color are well established at this point. It's now just a matter of refining it to degree of finish I desire.
The final landscape painting:
Read the full article at pototschnik.com.
How do you title your landscape paintings? Tell us about your process in the comments below!
***
Watch "John Pototschnik – Limited Palette Landscapes – Time Lapse Painting" below:
.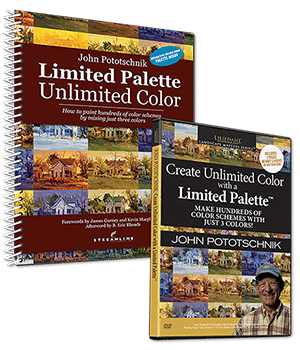 Never has there been an instructional video or book that teaches a color system that is so effective that it can completely change the way you paint.
The best part is that you can do all of this with just 3 colors + white. Even though you'll be working with a limited palette, you'll be painting a landscape – and more – with unlimited color. LEARN MORE ABOUT PAINTING WITH A LIMITED PALETTE WITH THIS SPECIAL OFFER.